Seattle Used Hyundai
If you're in the market for a used Hyundai for sale Seattle, then look no further than Larson Motors. With over 40 vehicles in stock, your Puyallup auto dealer is sure to have the Hyundai you're looking for, be it the classy Sonata, the versatile Sante Fe, or the sporty Elantra.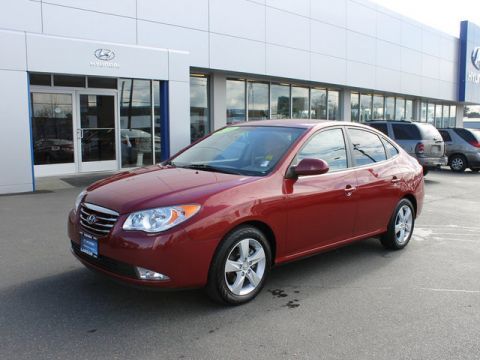 Larson Motors currently has 15 Elantra for sale Fife in stock, and if the 2012 Elantra is what you're looking for, you'll find that you have 11 to choose from. Redesigned in 2011, it has been remade to stand out, with its coupe looks and aerodynamic, bold stylings. The peppy 1.8-liter engine packs a punch, but not at the expense of fuel economy. EPA estimates are an impressive 28/38 miles per gallon, city/highway. Also offered in our line of used Hyundai's are models from 2009, 2010, and 2011.

If you're searching for an affordable, used crossover SUV, then a quick visit to your Puyallup auto dealer will reveal an impressive selection of 2011 and 2012 Hyundai Sante Fe. Stellar safety scores highlight the Santa Fe's list of desirables, as both model years were Insurance Institute for Highway Safety Top Safety Picks. Stability control and curtain airbags are standard on all Santa Fe's.

Larson Motors also has 10 Sonata's to choose from. If you're on a budget, we offer a 2008 Hyundai Sonata GLS for only $10,890, and it has less than 65 thousand miles. The 2007, 2009, and 2011 model years are also offered, with three of the latter in stock (of of which is a hybrid). You can also take a peek at our three 2012 Hyundai Sonata's, which feature distinctive styling and excellent gas mileage, with EPA estimates at 24/35 miles per gallon, city/highway.

Also in abundance is the 2012 Hyundai Genesis, with five to choose from. The Genesis boasts sloping, sleek exterior lines that evoke Mercedes-Benz, offering a clean, crisp and upscale look. It's a great family vehicle, with ample interior room. Prices for the 2012 start at $28,500. The 2010 Hyundai Genesis is available as well, with prices starting at $22,640.

Larson Motors also has used Tuscon's and used Veloster's available.

To view the used Hyundai for sale Auburn in person, and to set up a test drive, visit Larson Motors today, conveniently located just off of N. Meridian Ave. in Puyallup, at 300 River Rd. Larson Motors serves the Puyallup, Fife, Tacoma, and greater Seattle areas.