Quality Used Toyota for Sale Puyallup
It is with pleasure that Larson Motors offers you an extensive line of used and certified pre-owned Toyota for sale Puyallup. We feature over 64 cars from the quality automaker in stock, and whether it's a newer 2011 Corolla or a solid 2004 Camry Solara you're looking for, we have what you need.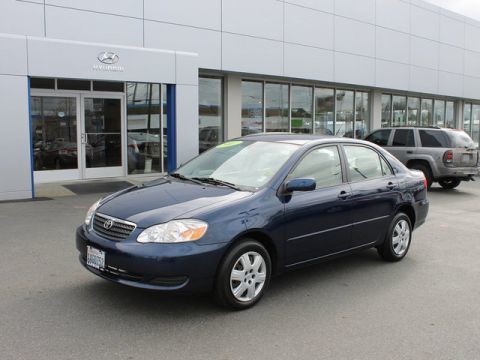 There are 17 varieties of the Toyota Corolla for sale Tacoma, an industry leader in reliability and affordability. Shoppers in the Fife, Puyallup and Tacoma areas who're perhaps looking for an affordable, reliable way to commute will be pleased with our 2006 Corolla, offered for $11,894. With only 75 thousand miles, this car sips fuel, and will make an excellent commuter for years and years to come.

Newer models, such as the 2011 Corolla LE, are available as well, and there are plenty to choose from. Safety features on Toyota's compact sedan include four-wheel disc brakes, brake assist, driver and side airbags, daytime running lights, and child safety locks.

There are four 2012 Toyota Camry's available at Larson Motors, all with less than 22 thousand miles. Other model years of Toyota's flagship vehicle are in stock as well, including 2004, 2009, 2010 and 2011 models. There are also 2009 Camry Hybrids available. All Camry's are either certified pre-owned or certified by Carfax as having only one owner, all of which lends you even more peace of mind, given the Camry's already reliable reputation.

If you're looking for a used Toyota SUV for sale Auburn, you'll be pleased to note Larson's extensive selection of RAV4's and 4Runner's. The RAV4 is a pioneer of the crossover market, offering all of the trappings of a functional SUV, but without the price and bulk. 2011 and 2012 RAV4's are in stock, all having had just one owner. 2010 RAV4's are available as well.

Your Puyallup used Toyota dealer has five 4Runner's to choose from, from the reliable, stylish yet economical 2005 model, to the good-as-new 2012 Toyota 4Runner LTD.

Other models in our fleet of used Toyotas include the Prius, FJ Cruiser, Highlander, Sequoia, and both pickup trucks, the Tacoma and the Tundra.

To view the entire lineup in person, and to set up a test drive, visit Larson Motors today, conveniently located just off of N. Meridian Ave. in Puyallup, at 300 River Rd. Larson Motors serves the Puyallup, Fife, Tacoma, and greater Seattle areas.