Quality Pre-Owned Fords for sale Fife
Larson Motors is happy to offer a vast array of quality pre-owned Fords, with over 30 in stock. No matter what your auto-buying needs are, Puyallup used car dealer has the Ford you're looking for, from the classic Mustang to the best-selling F-150.

For those looking for a comfortable, maneuverable SUV, we offer several used Ford Explorer for sale in Fife to choose from from the 2006, 2007 and 2010 model years. Always safe, the Explorer counts electronic stability control, four-wheel ABS, integrated safety belt, traction control, and tire pressure monitor as standard features. Check out our internet special, the 2007 Ford Explorer Limited 4WD. Super-low mileage, a gold paint job and a beige interior are a part of the package, along with a powerful 4.6-liter, V8 engine. It is priced to sell, at $18,500.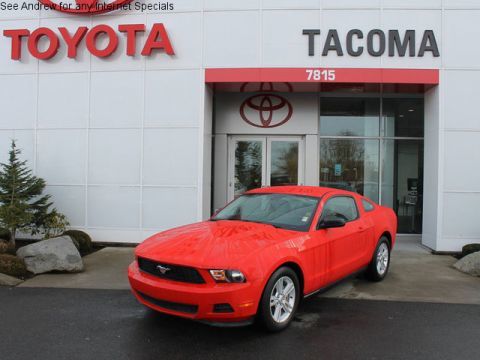 Your Puyallup source for pre-owned Fords also has a good amount of used Mustangs for sale. Various model years are offered, including the 2004, 2005, 2006, 2007, 2009, 2011 varieties, and even a 2013 model for good measure. The latter is one of our internet specials, the 2013 Ford Mustang GT for sale in Tacoma. Featuring a wicked black exterior along with a charcoal interior, this powerhouse boasts Ford's classic 5.0-liter V8. With only 3,000 miles on the odometer, it is priced at $28,000.

America's best selling truck for 30 years, the Ford F-150 is just as iconic. Larson Motors has a wide variety to choose from, including one of the internet specials, the 2010 F-150. With only 49 thousand miles, this handsome and rugged blue pickup truck offers a crew cab and a 5.4-liter V8. It's also loaded with safety features, including stability control, traction control, electronic brakeforce distribution, child seat anchors, front head airbags, and an engine immobilizer.

Also available in our fleet of used Ford vehicles are the Escape, Expedition, Taurus, Fusion, and Focus.

At Larson Motors, every vehicle is safety inspected and serviced for your peace of mind.

To view the entire lineup in person, and to set up a test drive, visit Larson Motors today, conveniently located just off of N. Meridian Ave. in Puyallup, at 300 River Rd. Larson Motors serves the Puyallup, Fife, Tacoma, and greater Seattle areas.